How Staking Helps You Make Passive Income From Crypto Investments?
Staking works similar to a savings account that pays interest. You can stake a portion or all of your cryptocurrency holdings (with a token that allows it) for a percentage-rate return on the investment. Returns are usually paid in the native token.
Staking-enabled cryptocurrencies usually employ a 'proof-of-stake' methodology to ensure transactions are validated and safe – without a bank or processor in between.
How does staking work?
Staking lets you earn income with your crypto by contributing to the Proof of Stake (PoS) network of a particular asset.
When you stake your crypto, you make the underlying blockchain of that asset more secure and more efficient. And in exchange, you get rewarded with more assets from the network.
To generate staking rewards on a Proof of Stake blockchain, a node has to designate a certain amount of tokens on the network as a stake (similar to a security deposit).
The chance of that node being chosen to validate the next block is directly proportional to the number of tokens being staked. If the node successfully validates a block, it is awarded the staking reward, similar to a miner being rewarded in Proof of Work chains.
How do I earn staking rewards on BlueArk?
Now you are able to delegate and stake your BRK holdings in the "BRK Staking Pool" Join and enjoy a reward of 45% APY.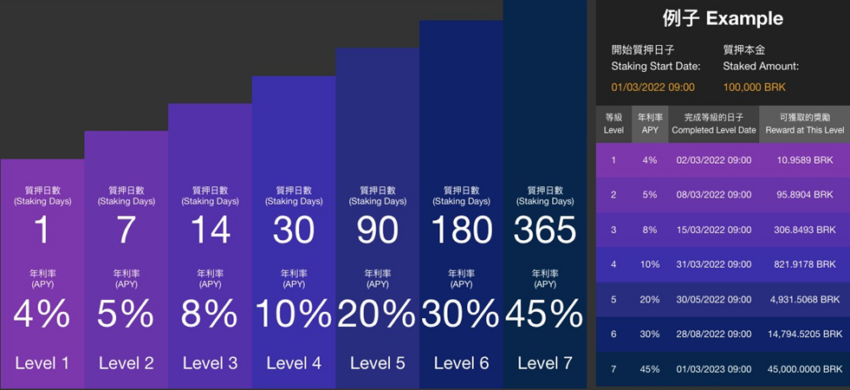 Staking Terms and Conditions:
The minimum amount of each stake is 100,000BRK. After the staking has started, the system will lock the related assets in the wallet.If you have completed the staking for one day, you will reach Level one, and if you have completed a pledge for seven days, you will reach Level two, and so on. Please refer to the table above for more details on levels and staking duration.After completing Level one, the system will automatically move to the next level, Level two, and so on. After completing Level seven, the system will automatically claim your stake, and users do not need to perform additional operations.Rewards will only be given when you have completed the level.Example: If you have staked for 10 days, you have completed Level two but not Level three, if you choose to claim during 10 days period, you will only receive the Level two Reward (no other levels will be rewarded).Example: If you have staked for 350 days, that means you have completed Level six but not Level seven, and if you choose to claim during that period, you will only receive the Level 6 Reward (no other levels will be rewarded).If you do not complete Level one and choose to claim it, then there will be no reward.You can choose to claim at any time, and the system will return the principal and the rewards you have earned. The rewards you receive are based on the level you have completed. After the claim is confirmed, the system will unlock the principal and distribute the reward after seven days.
Follow the tutorial video with step-by-step guidance on how to delegate and stake your BRK holdings.
What is BlueArk?
BlueArk was officially founded on September 1st, 2021.
The market value has soared over a hundred times within five months. BlueArk successfully opened its store in the Peninsula Hotel in mid-February 2022.
The Sandbox and The BlueArk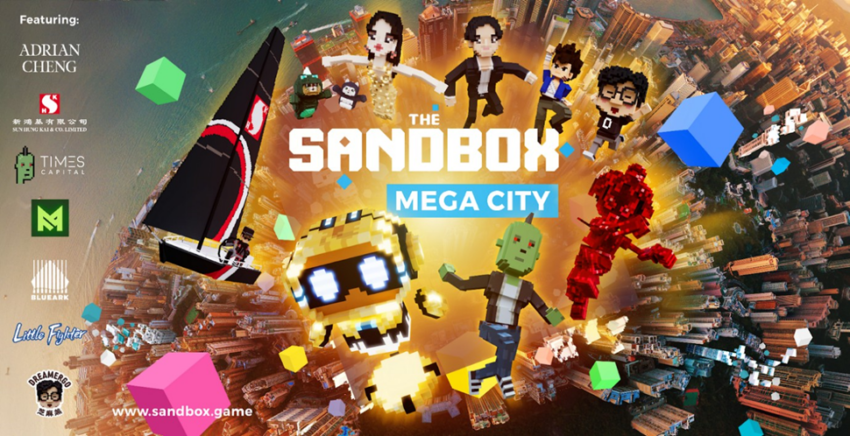 The Sandbox recently announced that it has reached a close cooperation agreement with a number of partners including BlueArk, from the film, music, entertainment, performance, finance, real estate, and game industries.
What is Gummy Villain?
Binance also invited Dough-Boy, the Creative Director of BlueArk, to be part of the first 100 creators on the platform releasing his first NFT work.
Gummy Villain, as a series of Dough-Boy NFT, a total of four pieces, was initially sold on the BlueArk platform, with a bid of 100 USDT in the form of a time auction.
In just four months, Dough-Boy's Gummy Villain #1 has increased by as much as 66 times, with the final transaction value of 6,622 USDT (2.1 ETH), and the total transaction value of the four NFTs reached 9,838 USDT (3.11 ETH).


For more details, please visit the below links:
Website | Facebook | Instagram | Telegram
Disclaimer
All the information contained on our website is published in good faith and for general information purposes only. Any action the reader takes upon the information found on our website is strictly at their own risk.